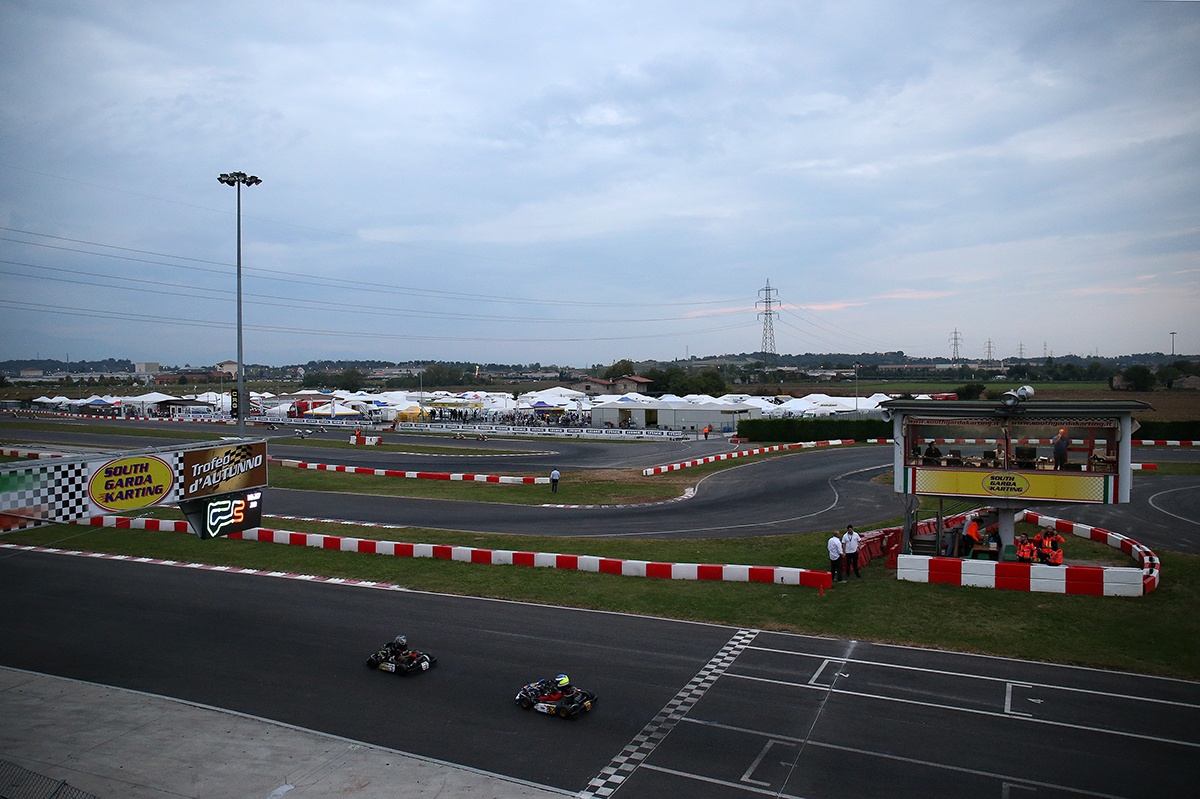 The first round of the 26th Autumn Trophy kicked off at South Garda Karting with a total of 270 drivers on track: a stunning 35% increment compared to last year. Great presence in national categories (123 drivers), in X30 (60 drivers) and in Rok Cup (86 drivers).
Lonato del Garda (Brescia, Italy). The 26th Autumn Trophy, the karting event underway at the South Garda Karting Circuit this weekend, opened with a lot of drivers, as 270 karting specialists got on track for the first of the two scheduled races.  
Compared to last year's opener, a stunning increment of 35% has been registered this year and this foretells that the Final round of the Autumn Trophy, race to be held next 8-9 October, will most probably break another participation record.    
National categories made it to the track with 123 drivers (KZ2 and Prodriver Under being the most crowded categories with 33 drivers, followed by Prodriver Over with 26). The X30 categories will fight for the National Final of the Iame Trophy with 60 drivers on track, while the Rok Cup will see 86 drivers on track for the penultimate round of the Challenge Rok, 40 of which in Mini Rok.  
Qualifying have taken place on Saturday October 1st. The fastest time of KZ has been posted by  Enrico Bernardotto (CKR-Tm) in 46.274s, as last year's winner Massimo Dante (Maranello-Tm) was second quickest in 46.336s. Luca Bombardelli (Maranello-Tm) has been the fastest of Prodriver Under in 47.749s, Jarno Giusti (Maranello-Tm) topped charts of Prodriver Over in 48.040s, Francesco Perugini (BirelArt-Tm) those of 125 Club in 48.319s and Yannik Federer (Maranello-Tm) 60 Mini's in 55.505s.  
Regarding categories X30, Hayden Lupifieri (GP-Iame) was the quickest of X30 Mini in 56.742s, Giulio De Amicis (Tony Kart-Iame) went fastest of X30 Junior in 50.511s, as Fabio Pacitto (Tony Kart-Iame) topped X30 Senior charts with a best time of 50.005s, Carlo Aldera (Tony Kart-Iame) secured the pole position of X30 Super in 47.390s and Davide Gherardi (Kosmic-Iame) that of X30 Master in 50.724s.  
In Rok categories, Marco Bernardi (Energy-Vortex) posted the quickest lap of the first session of Mini Rok in 55.328s, while Alessandro Balzarotti (Energy-Vortex) went quickest in the second session in 55.447s.  Adrian Janicki (Kosmic-Vortex) was the fastest of Junior Rok in 49.501s, Simone Favaro (Tony Kart-Vortex) topped the charts of Senior Rok in 48.539s, Giuseppe Gaglianò (Tony Kart-Vortex) those of Super Rok in 47.832s and Andrea Comanducci (Tony Kart-Vortex) was the quickest of Shifter Rok in 47.499s.   
The racing programme of the Autumn Trophy will continue on Sunday October 2nd with warm-up, heats, Prefinals and Finals, all available through Live TV and Live Timing at
racing.southgardakarting.it
.  
South Garda Karting
Press Office
01.10.2016
southgardakarting.it