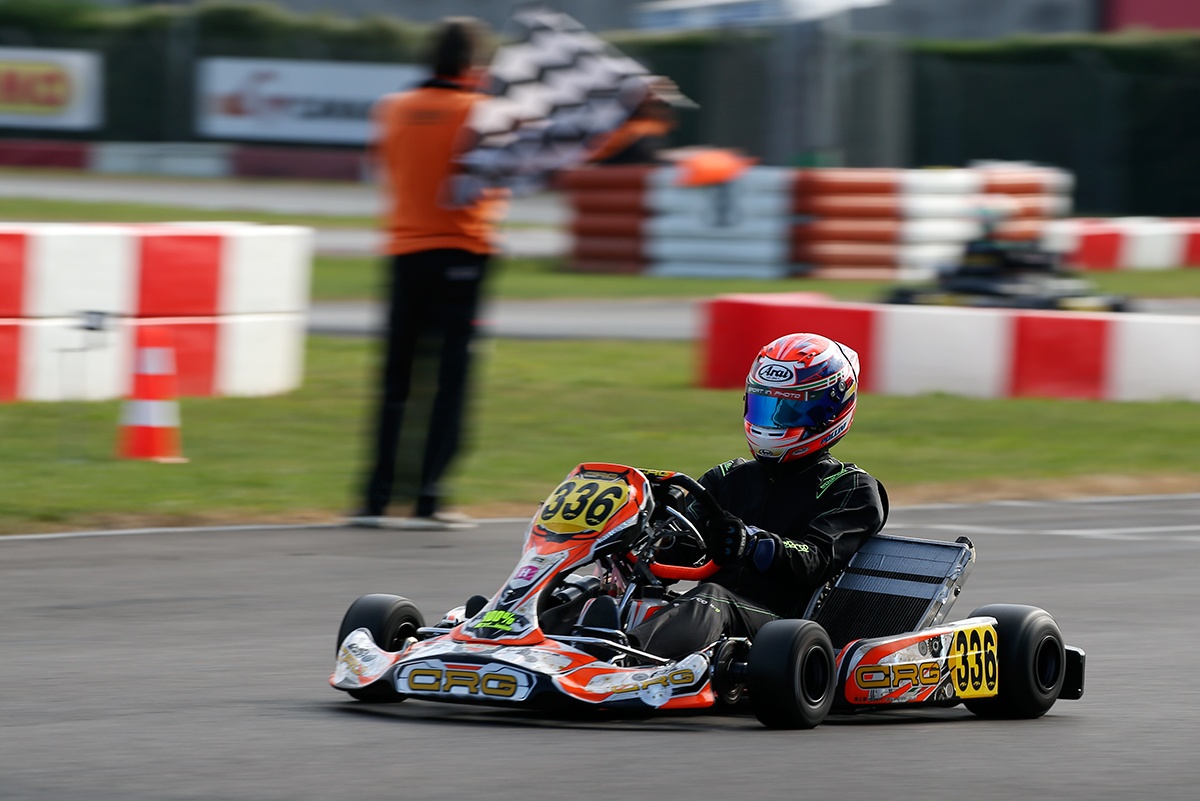 The final round of the 26th Autumn Trophy is underway with 270 drivers on track just one week after the first round that also had 270 drivers at the start. Pollini found his place in between the two main KZ2 victory contenders Bernardotto and Dante. All the national categories on track as well as Rok Cup for the final of its Challenge. All Sunday races available through live TV streaming.
Lonato del Garda (Brescia, Italy). The closing round of the 26th Autumn Trophy, race underway at the South Garda Karting circuit of Lonato, started with a great spectacle on track and 270 drivers entered in the national categories and Rok Cup Challenge. Edition 2016 set a participation record with 540 presences in the two rounds of 1-2 October and 8-9 October.  
A total of 540 drivers sets a record that goes beyond the national borders. Such numbers made this event and the track of Lonato come to the fore on the International scene, which also gives optimism for Italian karting too. These important figures also involve the presence of the youngest drivers, as those on track in the Mini Rok at the Autumn Trophy: 76 youngsters destined to shortly increase the entry lists of the higher categories.  
Lonato's Saturday has been devoted to qualifying, with very tight sessions that just gave a preview of the good finals that are ahead on Sunday October 9th both in the national categories and in Rok Cup, where drivers will also take this chance to get ready for the International Rok Cup that will be run on October 23rd on this same track.  
Three strong drivers have been inflaming KZ2 so far: poleman Giacomo Pollini on CRG-Maxter managed to score a late fastest time in 46.517s, that was 12 thousands of a second quicker than the time posted by the winner of the first round Enrico Bernardotto (CKR-Tm), and 24 thousands clear of 2015 winner Massimo Dante (Maranello-Tm), who is very motivated to get another victory this year. A strong performance was also put in by the Austrian Christoph Hold on Maranello-Modena who was only 72 thousands shy of the poleman, by Giuseppe Palomba (Croc-Modena), Lorenzo Lapina (Italcorse-Modena) and Luciano Medeghini (VRK-Tm), as the latter three are all within a tenth of a second. All 29 drivers are split by less than a second.  
Last Sunday's winner Luca Bombardelli has been the quickest again in Prodriver Under on Maranello-Tm, as he completed his best lap in 47.604s. He was followed by another specialist of this category,  Nicolò Zin on CKR-Tm that was 55 thousands of a second slower than him.      
The fastest time of Prodriver Over was set by Roger Ricco, on Tony Kart-Tm, in 48.183s, but Manuele Quintarelli on Righetti-Ridolfi-Tm was only 2 thousands off his pace. The winner of the first round Michele Bresaola was fifth at 0.109s on Tony Kart-Vortex.  
The fastest of 125 Club was Francesco Perugini on BirelArt-Tm, in 48.557s. The winner of the first round, Mauro Moretti, Tony Kart-Tm, was second at 37 thousands of a second.  
Yannik Federer, the younger brother of KZ2 new European Champion Fabian Federer, took the pole position of 60 Mini on Maranello-Tm in 55.583s, while the winner of the first round Victor Odin is currently fourth at 0.647s.  
The quickest times in qualifying of the three very tight Mini Rok series were secured respectively by the Polish Tymoteusz Kucharczyk (TB Kart-Vortex) in 55.497s, by Ugo Ugochukwu (Energy-Vortex) in 55.584s and by Tommaso Chiappini (IPK-Vortex) in 55.612s.      
The pole position of Junior Rok was secured by Francesco Pagano in 49.764s, Rok Senior's by Cristian Comanducci in 48.600s, Rok Super's by Mattia D'Abramo in 47.908s and Rok Shifter's by Daniel Vasile in 47.231s, all on Tony Kart-Vortex.     
The programme of Sunday October 9th schedules warm-up opening the morning, Entry Level's qualifying at local 10.00, Mini Rok's heats from 10.10 and then Prefinals for all the other categories. Finals will kick off at 14.30.  
Live TV and Live Timing services will be available at
racing.southgardakarting.it
.  
South Garda Karting
Press Office
08.10.2016
racing.southgardakarting.it
In the picture: Giacomo Pollini, KZ2 poleman at the final round of the 26th Autumn Trophy.