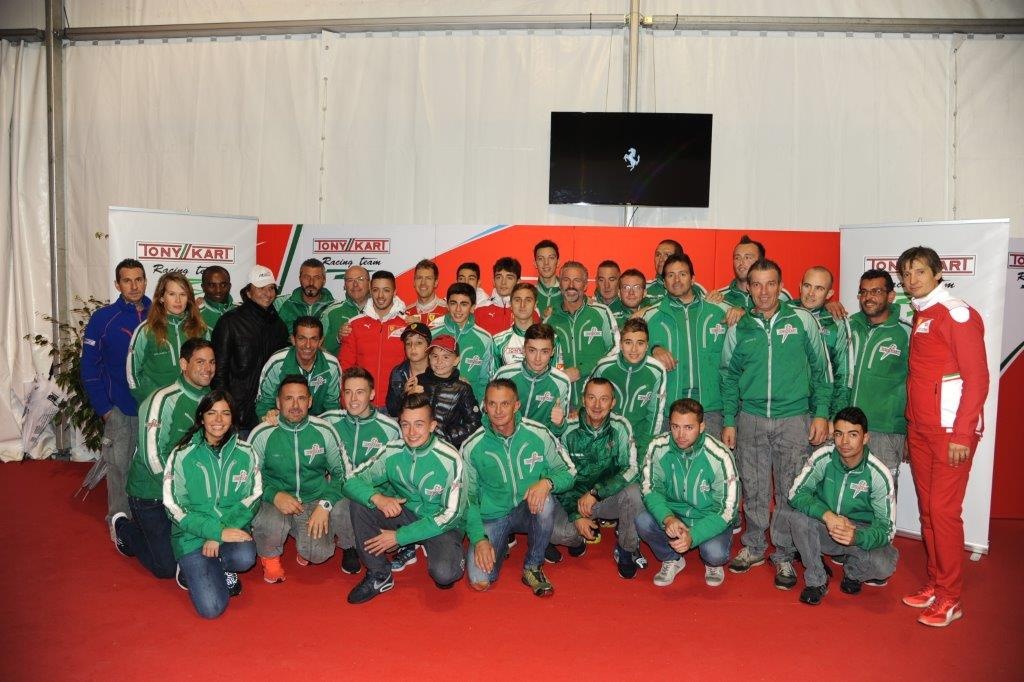 Ferrari Driver Academy and Tony Kart Racing Team opened up their technical partnership yesterday (13.10) on the South Garda Karting track in Lonato, with a wonderful test session. The FDA drivers FDA Charles Leclerc, Antonio Fuoco and Giuliano Alesi went down to the track together with all the official Tony Kart racing team with the drivers Marco Ardigò, Marcus Armstrong, Luca Corberi, Leonardo Marseglia, Guido Moggia, Clement Novalak, Jean Baptiste Simmenauer and David Vidales.
Test sessions were very exciting and none of the FDA drivers wanted to miss the chance to drive the Tony Kart-Vortex, not even when, in the afternoon, it started raining a lot, forcing drivers to use the rain tyres.
Leclerc and Fuoco were driving Tony Kart-Vortex of KZ category, while Alesi preferred concentrating his training on an OK kart.
Every single part of the day at the track was impeccably supported by our Racing Team staff, who enabled FDA drivers to work greatly.
It was also very interesting and constructive seeing how our drivers and the Academy Ferrari's were exchanging information, both of them very excited about the work carried out and the present and future plans.
Also the Ferrari drivers Andrea Bertolini, Marc Genè and Giancarlo Fisichella took part in the first official test, which opened up the technical cooperation between Ferrari Driver Academy and the Tony Kart Racing Team.
Among all these champions and talented drivers, the attendance of the former F1 World champion Emerson Fittipaldi did not go unnoticed, who reached the South Garda with his son "Emo Jr", who participated in this special day with the very young drivers of Mini Rok class.
Very exciting and appreciated was also the presence of the four-time F1 World Champion Sebastian Vettel, who arrived at the track yesterday afternoon, specifically to offer his best wishes to all drivers and to Tony Kart Racing Team and Ferrari Driver Academy staffs.
Roberto Robazzi –OTK Kart Group President
"I would like to thank FDA for choosing us as its partner in karting. As everybody knows, karting represents the starting point for a driver before arriving to single-seaters, so I think that the path we have taken, which will lead young talented drivers from kart, to formula, until professional motorsport, will be followed closely and carefully, both by us and by FDA.Today we have seen what FDA can do for drivers and in this regard, we will of course do our best too."
Massimo Rivola – Ferrari Driver Academy Sporting Director
"First of all I want to thank Roberto Robazzi for what he did and created with Tony Kart over the years and for the agreement with us.The deal between Tony Kart and FDA aims to make families' and children's dreams come true, as it is clear that karting is the right way to start a driver career, pursue it and keeping fit. Just think of what drivers such Bertolini, Genè and Fisichella do, who during their important career, go on training driving kart; this proves that kart is a fundamental training for the driver.
In this respect, it is a great pleasure for me to see a super-champion like Emerson Fittipaldi who is arriving directly from Brazil to take his son "Emo" to test with us.
On a special day like this, kart could not miss on the track and we also wanted to show what FDA drivers do for their physical and mental preparation, bringing also an important tool such the simulator. Once again, I want to congratulate and thank Roberto for what he is doing.
OTK Kart Group
Press Office