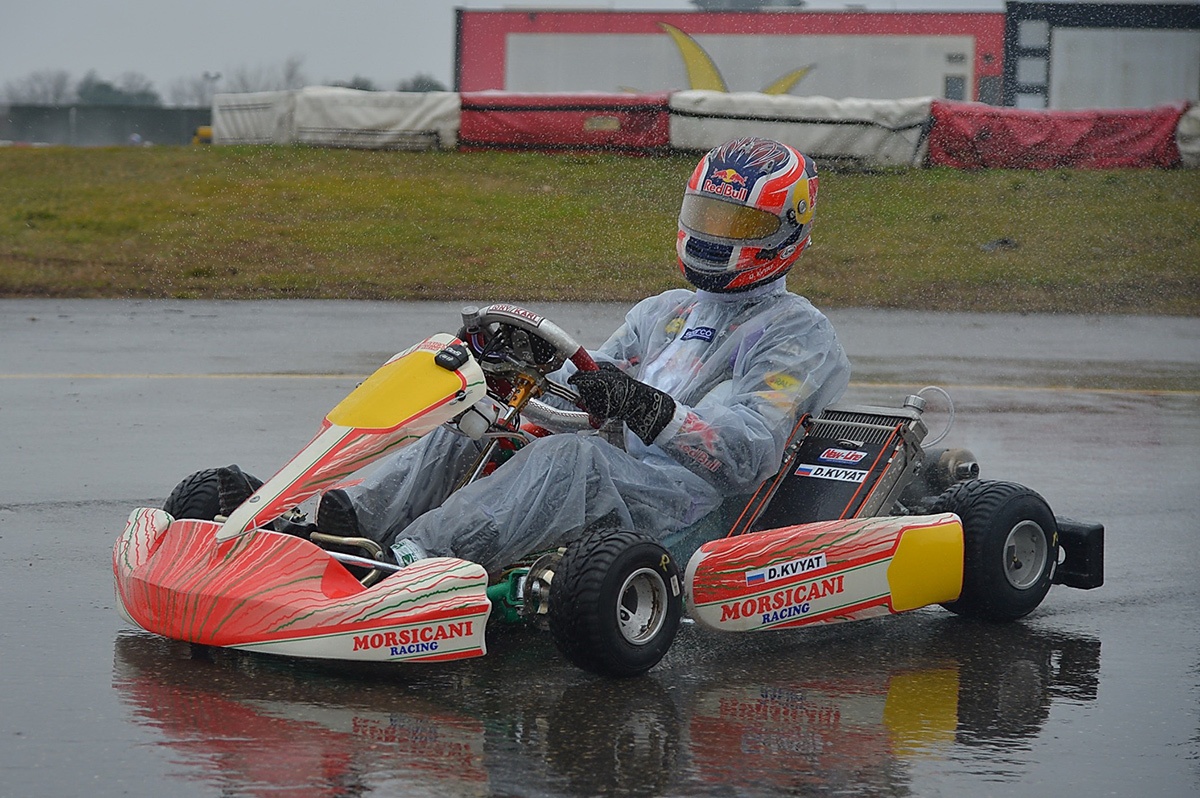 The F1 driver Daniil Kvyat has been back on karts in Lonato just a few days before the 20th Winter Cup and Bridgestone Supercup. A total of 253 drivers from 36 countries are getting ready to be on track.
Lonato del Garda (Brescia, Italy). As a few days are left to go before the 20th Winter Cup and  Bridgestone Supercup, the Formula 1 and Red Bull's driver Daniil Kvyat has been back on karts to preview the South Garda Karting track of Lonato that will stage the International event that announces to be quite full of participants: 253 drivers coming from 36 countries and 5 continents.  
Daniil Kvyat, who has already taken part in the Winter Cup winning the race valid for KF3 back in 2009, has been in Lonato with Tony Kart to test on the KF challenger run by team Morsicani with which he has been competing in the past.
"Lonato is my favourite track
– said Daniil Kvyat –
and from time to time I love driving karts to train a bit. I am happy that this circuit keeps being successful, I see that the Winter Cup is still as important and has a lot of drivers on track as it used to have back in my days on karts. I would have loved to watch the race next Sunday, but I will be busy with F1 testing in Barcelona and soon after we will have to head to Australia".
ENTRY LISTS FULL. Meanwhile, the entry lists of the 20th Winter Cup and Bridgestone Supercup to be held next 19-22 February are full in the four categories KZ2, KF, KF Junior and Mini Rok. The race will feature 253 drivers on track, marking an international success with all 5 continents represented and the record number of 36 countries. The number of competitors per category follows:  
KF 45 drivers
KF Junior 83 drivers
KZ2 69 drivers
Mini Rok 56 drivers  
THE 36 REPRESENTED COUNTRIES. Alongside Italy, the other represented countries will be Russia, Sweden, England, Norway, Denmark, Thailand, Spain, Romania, Lithuania, United States, Australia, Poland, Switzerland, New Zealand, Belgium, Finland, Austria, Germany, China, Hong Kong, Arab United Emirates, Slovakia, Czech Republic, India, France, Brazil, Indonesia, Malaysia, Ukraine, Holland, Croatia, Principality of Monaco, Philippines, Morocco, Colombia.  
THE PROGRAMME. Free practice will start on Wednesday 18 February and will then continue also on Thursday. Qualifying practice will follow on Friday 20 February as well as the first qualifying heats, that will keep drivers busy for the whole day on Saturday 21 February. Second chance races, Prefinals and Finals will take place on Sunday 22 February.  
All information on the race, the entry list and full programme are available on the website
racing.southgardakarting.it
. Live Timing and Live Streaming will also be available on Sunday.   
South Garda Karting
Press Office
16.02.2015
racing.southgardakarting.it
In the pictures: on top and on the side, Daniil Kvyat on track in Lonato. Above, Kvyat in the middle, with karting drivers Stefano Villa Zanotti (left) and Luca Corberi (right).
Ph. Spotinphoto.com