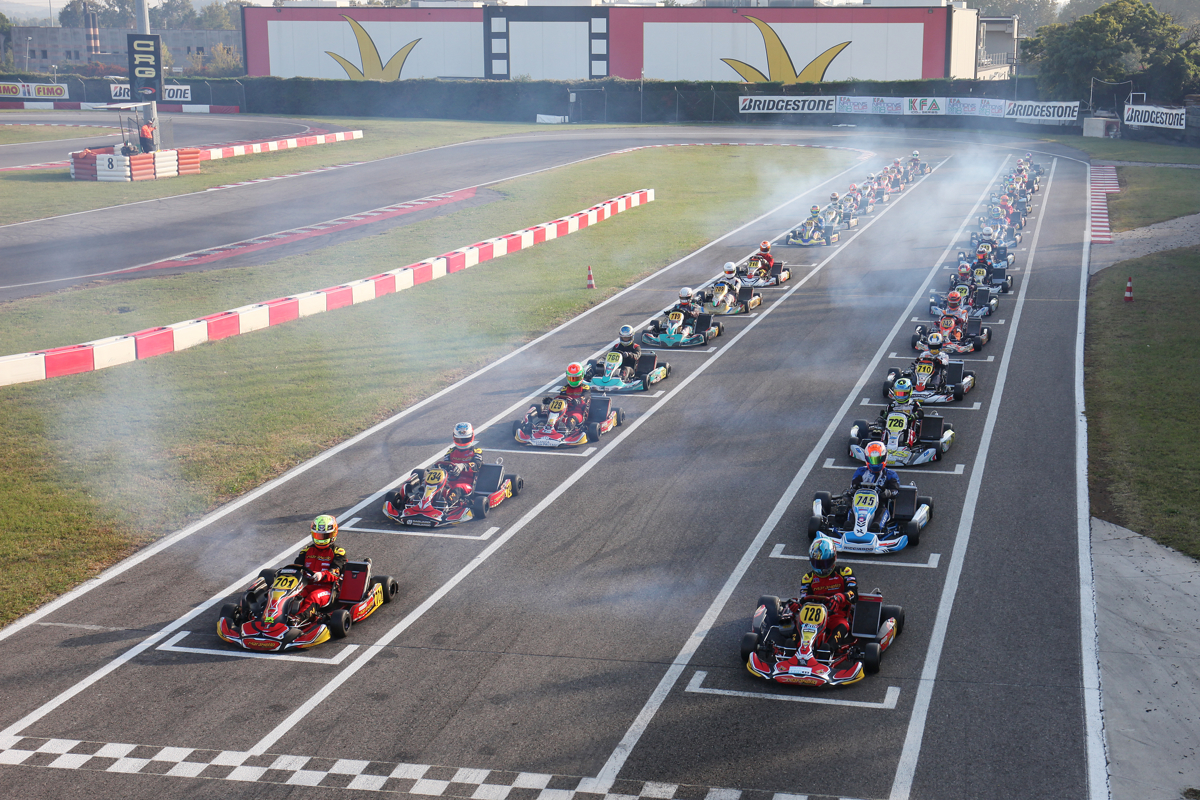 A total participation of nearly 600 drivers has been reached thanks to the 350 drivers taking part in the final round of the 28th Autumn Trophy in Lonato. The victory in the final round went to Hold in KZ2, Badoer in 60 Mini, Romeo in Entry Level. In Rok Cup, victory to Irfan in Mini, Albanese in Junior, Molinari in Senior, Bosco in Super, Chiari in Expert, Comanducci in Shifter.Lonato del Garda (Brescia, Italiy). A pleasant sunny day has blessed the final stages of the 28th Autumn Trophy at the South Garda Karting circuit of Lonato in an event that marked another record with 350 drivers on track. These are very important numbers for a National race, not only in Italy, considering also the 240 drivers present at the opener of the Autumn Trophy one week previously, which made the 28th edition of the trophy count nearly 600 participations overall.
The three National categories KZ2, 60 Mini and Entry Level, were joined by the six categories of  Rok Cup, namely Mini Rok, Junior Rok, Senior Rok, Super Rok, Shifter Rok and Expert Rok with drivers coming from 51 different Countries. Up for grabs was the Autumn Trophy based on the results obtained in the two rounds held on September 30th and October 7th and the Rok Cup Challenge that was run in three rounds held on February 18th in Lonato, September 2nd in Ugento and October 7th in Lonato.  
KZ2.
In KZ2 the Austrian Christoph Hold secured the win on Maranello-Modena in this second round, after his team mate Massimo Dante, also on Maranello-TM, won the first round held on September 30th. Hold has been very resolute and quick and won the final race leading Dante and a great Flavio Sani (Maranello-TM), who completed the podium. Hold and Dante ended equal on points in the final classification of the Autumn Trophy, but Dante secured the win thanks to the tie-braker of the best time in qualifying
Overall classification 28th Autumn Trophy, KZ2: 1. Dante points 87; 2. Hold 87; 3. Sani 80.  
60 MINI.
A good victory in 60 Mini was secured by Brando Badoer (Parolin-TM), who dominated the prefinal and final leading the two Swedish drivers Oscar Pedersen (Luxor-Lke) and Joel Bergstrom (IPK-TM). Francesco Marenghi, fourth on Evokart-TM, and the Dutch Andrey Petrovic on IPK-TM were also among the quickest. The Trophy was won by Marenghi who led the Austrian Kiano Blum (CRG-TM) – seventh in this final, while Riccardo Paniccia (Formula K-TM) ended third thanks to the sixth place in this final.
Overall classification 28th Autumn Trophy, 60 Mini: 1. Marenghi points 85; 2. Blum 74; 3. Paniccia 71.  
ENTRY LEVEL.
A total of 16 very young drivers took part in this race, which is the highest number ever for this category reserved to children aged between 6 and 8. The victory went to Cristian Romeo (Tony Kart-Lke), who dominated the Final leading Paolo Sacco (Praga-Lke) and Filippo Sala (Parolin-Lke). Filippo Sala secured the Trophy anyway, thanks to the victory taken in the first round.
Overall classification 28th Autumn Trophy, Entry Level: 1. Sala points 90; 2. Lanzara 81; 3. Mazzola 79.   
MINI ROK.
Mini Rok's heats and finals produced spectacular races with 97 drivers on track overall. The Brit Coskun Irfan (Parolin-Vortex) won the final from Piotr Protasiewikcz (Parolin-Vortex) to Andrea Kimi Antonelli (Energy-Vortex), as the latter managed to get back very well from the starting P11. The fourth place went to Jamaica's Alex Powell (Energy-Vortex) and the fifth to Cristian Bertuca (Parolin-Vortex). The Pole Karol Pasiewicz (Energy-Vortex) had to stop early in the final after posting the pole position time. The Challenge went Antonelli's ways.  
Overall classification Rok Cup Challenge, Mini Rok: 1. Antonelli; 2. Bertuca; 3. Protasiewikcz.  
JUNIOR ROK.
Federico Albanese (Energy-Vortex) came out victorious from a duel lasting for the whole Junior Rok final and a lot of position exchanges on top. The Brazilian Matheus Morgatto (Parolin-Vortex) crossed the finish line on top by just 0.011s, but he was later on pushed down to P2 by a 3s time penalty due to an unfair move in the final lap. Tymoteusz Khucharczyk (Parolin-Vortex) had the best of Ugo Ugochukwu (Tony Kart-Vortex) in the duel for P3. The Challenge was won by Albanese.
Overall classification Rok Cup Challenge, Junior Rok: 1. Albanese; 2. Khucharczyk; 3. Morgatto.   
SENIOR ROK.
Giorgio Molinari (Exprit-Vortex) dominated Senior Rok. He also claimed the pole position and was first after qualifying heats.  Molinari led Davide Cordera (Exprit-Vortex) and Leonardo Moncini (Tony Kart-Vortex) in the final. Molinari won also the Rok Challenge Senior. In Expert Rok, the result taken in the Final-B saw Marco Chiari (Tony Kart-Vortex) winning from John Cariati (Intrepid-Vortex) and Jaime Cabrera (Praga-Vortex). Chiari won the Challenge Expert.
Overall classification Rok Cup Challenge, Senior Rok: 1. Molinari; 2. Spalluto; 3. Cordera.
Overall classification Rok Cup Challenge, Expert Rok: 1. Chiari; 2. Chiefa; 3. Cariati.  
SUPER ROK.
Luca Bosco dominated Super Rok. He won Prefinal and Final building a good margin on Andorra's driver Alexandre Machado and on the American Jace Gessel Denmark, all on Tony Kart-Vortex. Cristian Comanducci was only 12th after claiming the pole position and fighting early on with Bosco. The Challenge was won by Bosco.
Overall classification Rok Cup Challenge, Super Rok: 1. Bosco; 2. Machado; 3. D'Abramo.   
SHIFTER ROK.
The Shifter Rok's final has been a nice race that lived on a series of duels behind Francesco Comanducci (CKR-Vortex), who won the final. He was joined on the podium by the Swiss Samuel Luyet (Tony Kart-Vortex) in P2 and the Italian Riccardo Cinti (Tony Kart-Vortex) in P3, as the latter posted the pole position time and then recovered all the way to the podium from P13 of Prefinal. Comanducci won the Challenge. 
Overall classification Rok Cup Challenge, Shifter Rok: 1. Comanducci; 2. Luyet; 3. Guidetti.           
Complete results are available at racing.southgardakarting.it.  
The next appointments at South Garda Karting:
October 11-13: Rok Cup International Final.
October 19-21: WSK Final Cup round one.
October 27-28: 47th Trofeo delle Industrie. 
South Garda Karting
Press Office
08.10.2018
www.southgardakarting
In the pictures: 1) KZ2 start: Hold e Dante; 2) 60 Mini, Badoer; 3) Entry Level, Romeo; 4) Rok Mini, Irfan; 5) Rok Junior, Albanese; 6) Rok Senior, Molinari; 7) Rok Super, Bosco; 8) Rok Shifter, Comanducci.