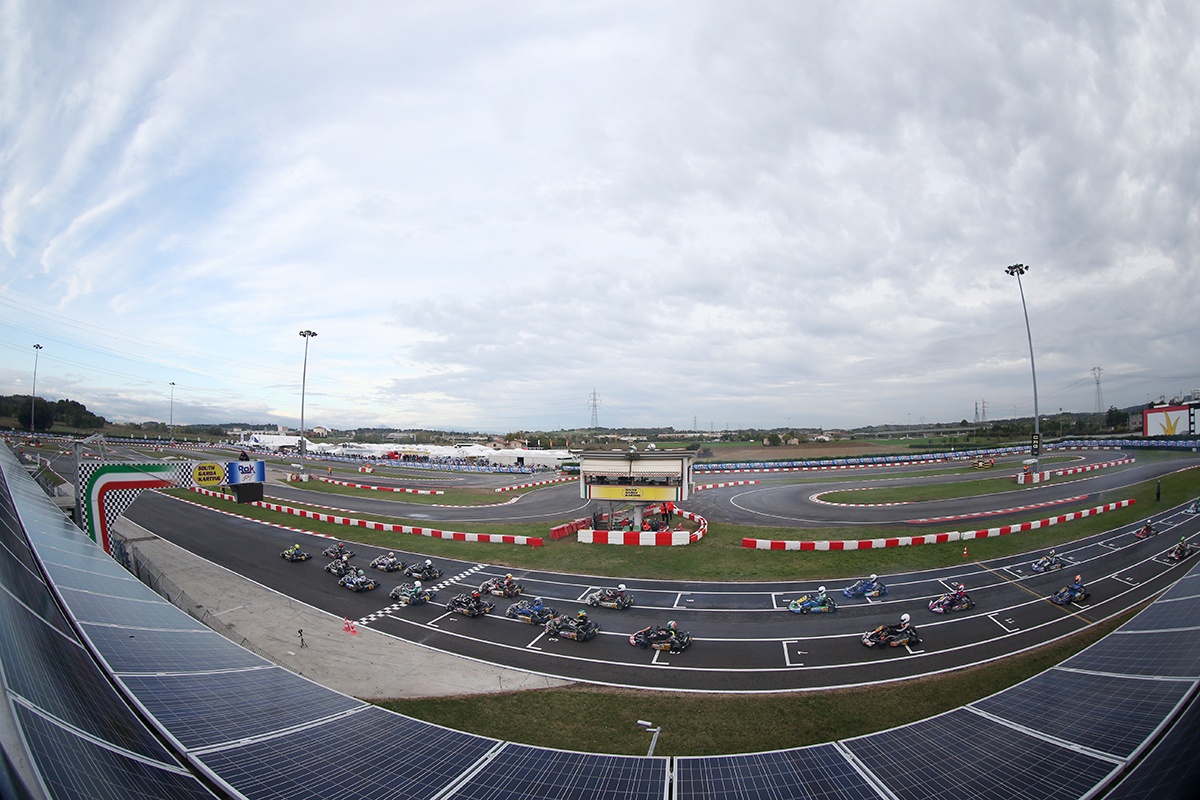 The world round of the Rok Cup International Final is underway in Lonato with 413 verified drivers that made it to the track for qualifying and heats. Final stages scheduled for Saturday October 22nd. Races available through Live streaming. 
Lonato del Garda (Brescia, Italy). Edition 2016 of the Rok Cup International Final kicked off at South Garda Karting of Lonato with 413 drivers on track: a new world record for the Vortex single make series and beyond.  
The highest presence ever for Rok Cup is celebrated this weekend at the renewed track of Lonato, figures that confirm the high quality of the circuit located near Brescia that raised the bar in all its services, starting from race direction, to the new layout and paddock.  
The full immersion into Rok Cup racing has started officially on Thursday October 20th with qualifying and the initial heats that will have the duty to narrow down the impressive number of 413 drivers to decide the ones that are to partake in the grand finale scheduled for Saturday October 22nd.  
The participation record has been scored by the youngest drivers – i.e. the 8 and half to 12 yrs olds of Mini Rok, that reached level 168 out of the 170 entered. Junior Rok will have 86 drivers at the start, Senior Rok 59, Super Rok 36 and Shifter Rok 64. This is going to be a special edition due also to the big names of motor racing that will be in Lonato either to compete or to support their children on track. Former F1 driver Rubens Barrichello will drive in Shifter Rok (category in which he won one qualifying heat today), but he will also push his two children Fernando (Mini Rok) and Edoardo (Junior Rok). Two times winner of Indy 500 Juan Pablo Montoya will support his son Sebastian, former F1 driver Jarno Trulli his son Enzo, two times F1 World Champion and two times Indy 500 winner Emerson Fittipaldi his son Emmo and five times motorbike 500 World Champion Mick Doohan his son Jack.  
These are a lot of important names of motorsport to keep an eye on in the many forthcoming qualifying heats. The fastest time of qualifying in Mini Rok was set by the French Evann Mallet (Tony Kart-Vortex), as Junior Rok's pole position went to Alessandro Brigatti (TB Kart-Vortex), Senior Rok's to Simone Favaro (Tony Kart-Vortex), Super Rok's to the Dane Casper Hansen (Tony Kart-Vortex) and Shifter Rok's to Gaetano Di Mauro (Kosmic-Vortex).  
The initial qualifying heats have been run today. The name of the first winners follows:  
Mini Rok: Evann Mallet (Tony Kart), Ugo Ugochukwu (Energy), Adam Putera (CRG), Luca Bosco (Tony Kart), Federico Cecchi (Tony Kart), Jak Crawford (Energy).
Junior Rok: Kacper Szczurek (Kosmic), Gezha Sudirman (BirelArt), Danny Carenini (Tony Kart).
Senior Rok: Simone Favaro (Tony Kart), Szymon Szysko (Kosmic).
Super Rok: Riccardo Cinti (FA Kart).
Shifter Rok: Gaetano Di Mauro (Kosmic), Rubens Barrichello (BirelArt).  
Heats will continue tomorrow Friday October 21st. Finals will take place on Saturday October 22nd at 14:30 with Live Streaming service.  
All results are available at
racing.southgardakarting.it
and
www.vortex-rok.com
.  
South Garda Karting
Press Office
20.10.2016
racing.southgardakarting.it
In the picture: A view of the South Garda Karting circuit of Lonato during the Rok Cup International Final. Ph. FM Press