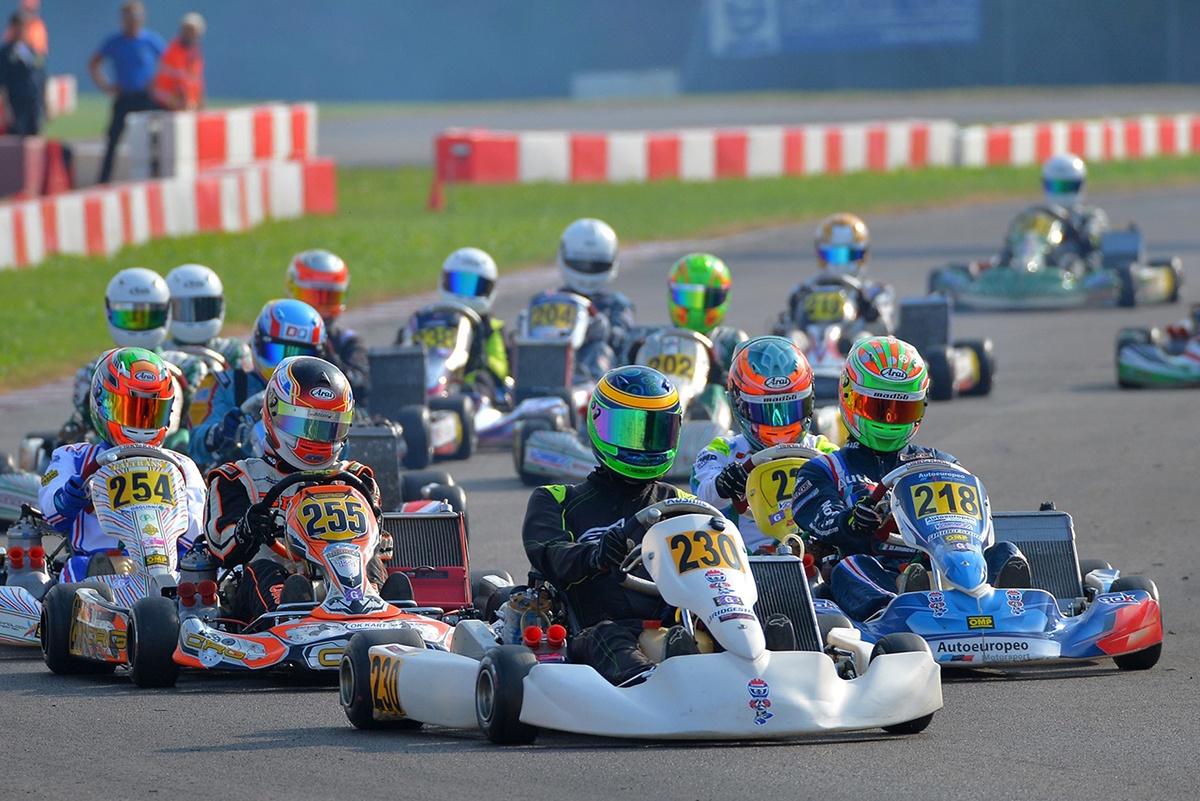 The second round of the Autumn Trophy will take place in the weekend of 8-9 October in Lonato with national categories and Rok Cup on track for their Challenge. Entry deadline next Friday October 7th at 13:00 (GMT+2).
Lonato del Garda (Brescia, Italy). Everything is ready at South Garda Karting that is going to stage the second and closing round of the 26th Autumn Trophy, race that will award the trophies on Sunday October 9th after the opener held on Sunday October 2nd.  
Following the 270 entered drivers in the opener, a good number of drivers are awaited to confirm the good performance shown on track last Sunday or to counter-charge and improve their rank in the classification. All national categories Entry Level, 60 Mini, KZ2, Prodriver Under, Prodriver Over, 125 Club, as well as all the Rok Cup categories will get on track for this second race of the Autumn Trophy to be held next 8-9 October, as the latter will fight for the closing round of the Challenge Rok Cup.  
The deadline to submit entries is set for next Friday October 7th at 13.00 (GMT+2). Entries must be submitted through the website
racing.southgardakarting.it
and the payment of the entry fees must be done through credit card.  
Enrico Bernardotto on CKR-Tm has taken the KZ2 victory last Sunday, but last year's winner Massimo Dante on Maranello-Tm was second and will try and do his best to turn the final classification around in his favour. Alike, Fabrizio Rosati on CRG-Modena will try and build on his third place, as he proceeded Luciano Medeghini (VRK-Tm) and Mirko Colombo (Energy-Tm) at the flag, but other protagonists are also ready to shine.  
The victory of the first race of Prodriver Under went to Luca Bombardelli (Maranello-Tm), while Michele Bresaola (Tony Kart-Vortex) claimed the victory in Prodriver Over, Mauro Moretti (Tony Kart-Tm) in 125 Club, Victor Martin Odin (Energy-Tm) in 60 Mini and Roberto Castellozzi (Italcorse-Lke) in Entry Level.   
The race of 8-9 October will also be the last act of the Rok Cup Challenge. This is also going to be an important chance to test all the material ahead of the world appointment of the International Rok Cup, race to take place in Lonato on October 22nd. Last October 2nd, Marco Bernardi (Energy-Vortex) secured the victory in Mini Rok, while Junior Rok was won by Gabrio Bizzozero (FA-Vortex), Super Rok by Mattia D'Abramo (Tony Kart-Vortex), Rok Senior by Szymon Szyszko (Kosmic-Vortex) and Rok Shifter by Gabriele Bensi (CRG-Vortex).  
Free practice and qualifying are scheduled for Saturday October 8th. Warm-up, heats, Prefinals and Finals will take place on Sunday October 9th with live TV and Live Timing services available at
racing.southgardakarting.it
.  
South Garda Karting
Press Office
05.10.2016
racing.southgardakarting.it
In the picture: the start of Rok Senior in the first round of the Autumn Trophy (Ph. Sportinphoto).